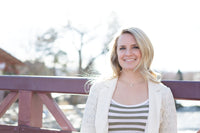 Jennifer Van Arsdall, Founder and Artisan Soaper.
Jenn was born in South Lake Tahoe and has called the Northern Nevada region her home. She now resides in Reno and enjoys spending time with her family, traveling to new locations, and creating bath + body goods in her soap factory (laundry room)...
Jenn uses the cold process method in her soap making. This is the old fashioned way, where you mix fat with lye water which then saponify and take 4-6 weeks to cure before use. She uses Coconut Oil, Olive Oil, Sustainable Palm Oil, Shea Butter, & Castor Oil in all her soaps. She may or may not add fragrances/essential oils and/or colorants such as natural clays or FDA approved pigments to her soaps. All of her soaps are 95-100% Natural. Her recipe is especially great for the northern Nevada region where the air runs dry and extra moisturizer is needed. These soaps are perfect for this type of climate.
"Having a chance to give back to Lake Tahoe through my business is so rewarding for me, and doing it through my creativity makes it that much more fun!"
5% of proceeds are donated to keeptahoeblue.org